Constantly shifting his area of application between industrial design, craft work, self-production, social design, limited editions for galleries Francesco Faccin (Milan, 1977) considers design as a powerful tool to understand and modify reality.
A pretext to connect different fields and disciplines and to take a political stand.
In 2004, after almost two years of col- laboration with
Enzo Mari, he started working with the lute-maker Francesco Rivolta, learning high cabinet-making techniques.

In 2007 started his own studio in Milan. From 2009 to 2015 he worked as a consultant for Michele De Lucchi.
In 2013 he was selected as "Italian Fellow" at the American Academy in Rome. In 2010 he wins the Design Report Award and in 2015, with the "Traverso" project he receives an honorable mention at the Compasso D'Oro.

From 2014 to 2016 he attended the role of artistic director for the historical foundry "Fonderia Artistica Battaglia" in Milan.

In 2015, on the occasion of Expo2015 he presented "Honey Factory", a micro -architecture for urban beekeeping that, in 2018, was selected by the United Nations as guiding project for to the 17 Global Goals.

Since 2018 he works with Giutini/Stagetti gallery.
In 2020 he was asked to design the set for the exhibition "Regina. Della scul- tura" for GAMeC museum and started a collaboration with Naturasì for the creation of a new format of shops.

Besides working for Italian and inter- national, public and private clients and NGOs, Francesco Faccin works as a professor at the "Libera Università" in Bolzano, at the "Made Program" in Syracuse, and at the "Universidad de Na- varra" in Pamplona; also, as a visiting professor, he collaborates with other universities in Italy and abroad.

His work has been published in the most important international specialized magazines.
In 2019 Icon Design marked him among the 100 most influential personalities se- lected in various creative fields.




Enzo Mari says about me: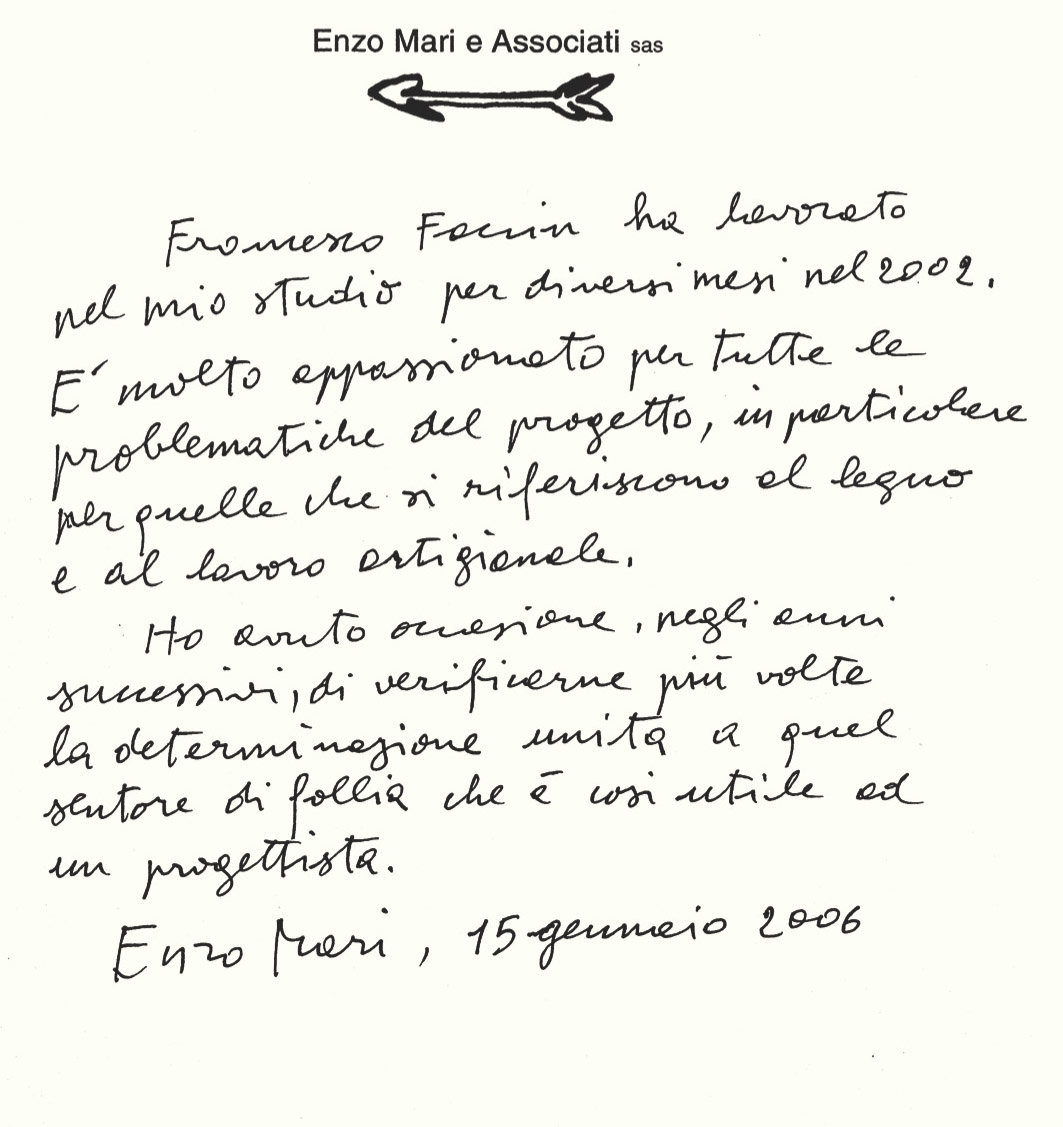 Francesco Faccin has been working in my studio for several months starting from 2002. He is fond of all steps of a project, specifically for those referring to wood and hand-crafted work. In the next years, I had the opportunity to prove several times his dedication and that glimpse of folly so convenient for a designer.
Enzo Mari, January 15th 2006



Maria Cristina Didero says about me:

But let's start from the designer himself: Francesco Faccin is-one-of-those-designers-who-makes, and he has his peculiar approach to it. I imagine him working in silence. However, the creatures he produces are not silent at all: they have sharp serious outlines, which clearly express not only the hand that made them, but also the thought behind their conception. In my opinion, Faccin is one of those cutting-edge, ruthless designers who is passionate about his chosen discipline where ruthless, in the best possible interpretation, means intellectual honesty combined with a careful eye trained not only on the origin of things but also the reason why they exist. However, Francesco Faccin is also a designer who looks to the future. While the orientation of his work is dense with reflections applied to a range of design disciplines, in this 21st century Faccin has even searched for a different way to light the fire. His unusual approach to work coming from his insatiable curiosity and a broader vision of the vast choice of operative methods, actually consists of one thing only: the bet on Man. In other words, he is testing the reaction to a specific task without moving away from the intrinsic creative intimacy - also known as integrity.
His projects are not loud but whispered, they present themselves gracefully. They murmur, they suggest, they point out not only their history and origins but also the obsessive attention to the production process and the basic components of reasoned simplicity, which consist in precision even sought arduously on commitment and successfully achieved – this is the definition of the author, born in Milan in 1977 and based here.