Constantly shifting the area of application between industrial production, indipendent production, community design and gallery work, Francesco Faccin, belives in design without bounderies or limits: «I am interested in design that sparks connections, thought and debate, above all those that are a product of in-depth studies beyond the object itself. Design is a fantastic opportunity to deepen our relationship with the world around us.»
Born in Milan in 1977. In 2004, after a collaboration lasting almost 2 years with Enzo Mari, he began to work with the lute-maker Francesco Rivolta. In 2007 started his own studio in Milan. From 2009 to 2015 he was consultant for Michele De Lucchi. Courrently he leads a course in product design at the Free University of Bolzano, as well as teaching in many other Italian and foreign universities. Italian Fellow at the prestigious American Academy in Rome in 2013. Studio Francesco Faccin collaborates on a regular basis with Italian and international clients such as design galleries (Rossana Orlandi,Nilufar), private companies and public institutions, NGOs.
His work has been published in the most important worldwide magazines.




Enzo Mari says about me: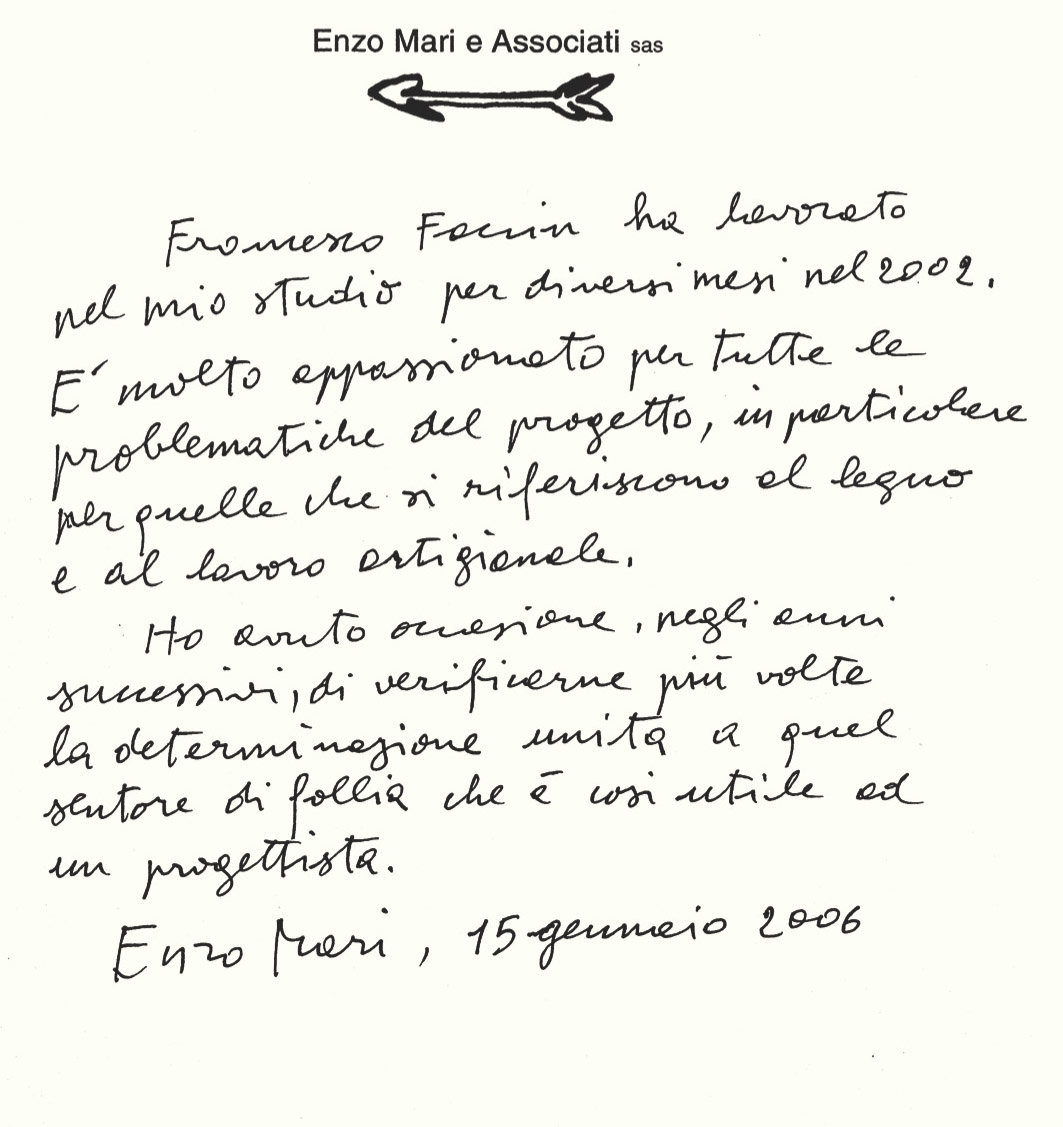 Francesco Faccin has been working in my studio for several months starting from 2002. He is fond of all steps of a project, specifically for those referring to wood and hand-crafted work. In the next years, I had the opportunity to prove several times his dedication and that glimpse of folly so convenient for a designer.
Enzo Mari, January 15th 2006



Maria Cristina Didero says about me:

But let's start from the designer himself: Francesco Faccin is-one-of-those-designers-who-makes, and he has his peculiar approach to it. I imagine him working in silence. However, the creatures he produces are not silent at all: they have sharp serious outlines, which clearly express not only the hand that made them, but also the thought behind their conception. In my opinion, Faccin is one of those cutting-edge, ruthless designers who is passionate about his chosen discipline where ruthless, in the best possible interpretation, means intellectual honesty combined with a careful eye trained not only on the origin of things but also the reason why they exist. However, Francesco Faccin is also a designer who looks to the future. While the orientation of his work is dense with reflections applied to a range of design disciplines, in this 21st century Faccin has even searched for a different way to light the fire. His unusual approach to work coming from his insatiable curiosity and a broader vision of the vast choice of operative methods, actually consists of one thing only: the bet on Man. In other words, he is testing the reaction to a specific task without moving away from the intrinsic creative intimacy - also known as integrity.
His projects are not loud but whispered, they present themselves gracefully. They murmur, they suggest, they point out not only their history and origins but also the obsessive attention to the production process and the basic components of reasoned simplicity, which consist in precision even sought arduously on commitment and successfully achieved – this is the definition of the author, born in Milan in 1977 and based here.