Furniture for the "Why not" Academy

2012
Client:
liveinslums


Except from article by Loredana Mascheroni, Domus Magazine, Nr.967
"The Liveinslums NGO invited me to participate to the project. They asked me to design the school furnishing and equipment using only local materials and manpower".
The need for the equipment and furniture, meanwhile, was met by engaging local workers on the basis of the Liveinslums philosophy, which sees it's communities as the main players in the trasformation process. Working in a country without resources and technology was the starting point of the challenge of Francesco's work. He knew he had to operate on a site using only basic tools brought from Italy.
Furthermore, with no machinery, and unrealiable electricity supplie and locally sourced raw materials, any inconveniences ancountered during construction would have to be resolved with an improptu approach (for example a black smith manded broken equipment using a long nail).
I was also aware that his construction plan would have to be simple and flexible, so that it could be developed autonomously as a sort of inheritance left to the community.
The construction system is based on a single one-meter-long box-sectioned lath of local wood similar to mogany, measuring 30 by 30 millimeters. Ordered from a carpentery shop in Nairobi, it is assembled like Lego to make many different types of furniture, which are combined with plywood surfaces painted with a slate effect. The laths are exploited to the maximum, and the screw halls are very carrefully preparred "i created a primitive error-proof assembly line" says Francesco "this system is ideal to make benches of three different sizes, according to the student age. Once a semplification factor had been introduced, and a rapid, repetitive production method established, everything went smoothly".
Design served only to semplify. The most important thing was the process which proved fundamental in a country that does not think in terms of design but of immediate survival.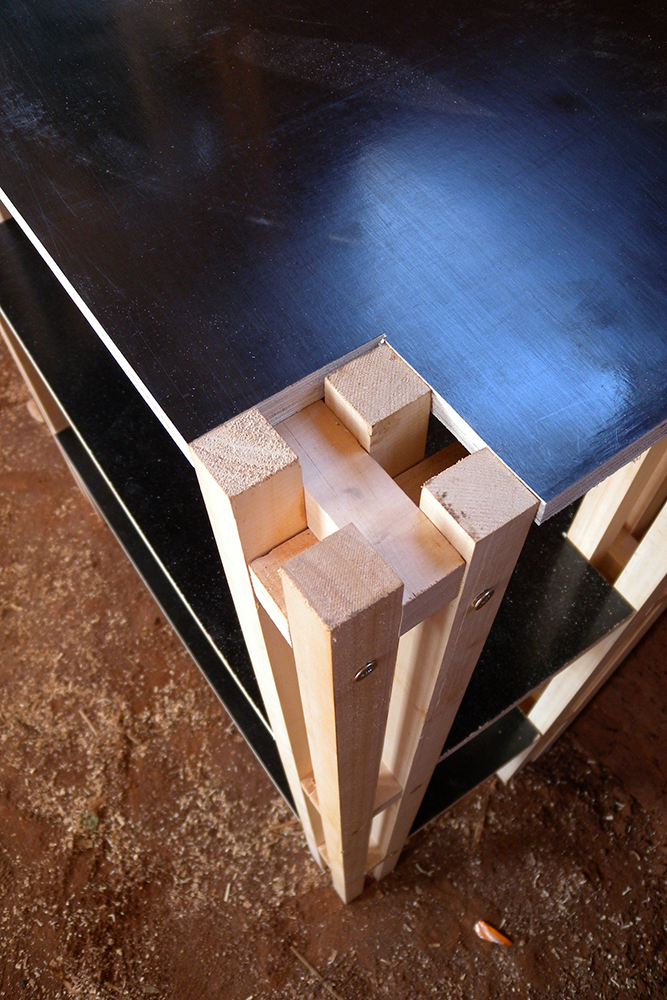 Photo Credits: Filippo Romano